River Irwell flood defence scheme completed in Salford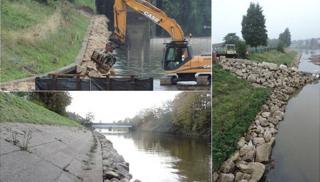 Work has been completed on an upgrade to flood defences protecting more than 2,000 homes and businesses in Salford.
Chunks of rock have been fitted along a 2.2-mile (3.5km) stretch of the River Irwell to strengthen defences through Lower Kersall and Lower Broughton.
The scheme is part of Salford City Council's £75m Irwell River Park plan.
The Environment Agency said the work, which took six months to complete, "greatly enhanced" flood protection for people in the area.
It added another project, planned to start in 2015, will create a second flood storage basin in Castle Irwell.
Salford City Council said the Irwell River Park aims to create a "sustainable transport corridor" linking MediaCityUK, Salford University and Manchester city centre.