Bolton house fire death woman 'was stabbed'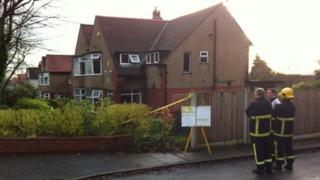 A woman whose body was found following a house fire that claimed three lives had been stabbed, police have said.
The bodies of Hassan Rafie, 49, and stabbed wife Mahnaz, 48, were found in the kitchen of the house on Albert Road West, Heaton, Bolton, on Monday.
Relative Dolleh Joseph, 74, was rescued from upstairs by firefighters but later died from the effects of fire.
The blaze is thought to have been started when a gas supply in the kitchen was tampered with, police said.
Detectives said they are not looking for anyone in connection with the deaths and their investigation is continuing on behalf of the coroner.
'Our angel'
Mr Rafie also died from the effects of fire, a post-mortem examination confirmed.
The Rafie's sons, Dr Ommid Rafie and Arash Rafie, said they were "heartbroken by the tragic loss of our family".
Architect Hassan Rafie was "extremely well respected in the community", they said.
They described Mrs Rafie, also known as Mona, as "our best friend, our angel", who had dedicated her life to her family and recently decided to pursue a career in law.
Ms Joseph was a "kind, loving" grandma who had been diagnosed with terminal cancer almost two weeks ago, they added.
"Our parents would next week have been celebrating 25 years of marriage through which they worked together through the greatest difficulties to build a successful life from scratch," the two sons said in a statement.
"They were loved by all that knew them."