Probe launched into University Hospital of South Manchester finances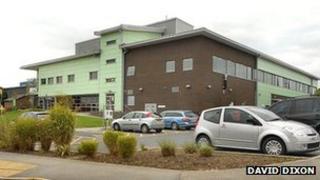 An investigation into the finances of University Hospital of South Manchester NHS Foundation Trust (UHSM) has been launched by the health regulator.
The Monitor inquiry concerns "financial pressures" over the funding of an £80m hospital wing and mental health unit.
The trust said it involved an increase in private finance initiative (PFI) payments from the 1998 contract.
UHSM, which runs Wythenshawe Hospital and Withington Community Hospital, said it welcomed the investigation.
In 2010, the BBC reported the taxpayer would end up paying nearly 16 times the original construction cost for the new hospital.
PFI deals were used to build several new hospitals and wards around the UK, with the private sector paying for them upfront and trusts then paying back the cost, with interest, for several years after.
Monitor said the trust was developing a financial recovery plan, which is expected to put in place by January and "stick to".
Robert Davidson, from Monitor, said: "When we reviewed the trust's annual plan, we became concerned about the financial position of UHSM both in the short-term, and as a result of a large private finance deal.
"Our investigation will help identify if there are other financial issues which should concern us as a regulator."
A UHSM spokesman said the trust will break even this year, but the "PFI payments coupled with the increasing pressures on UHSM's finances pose a challenge".
He added the trust had already started a recovery plan "designed to overcome the financial hurdles over the next few years, without damaging the excellent quality of care provided to patients".