Hobbit author JRR Tolkien's World War One revolver on display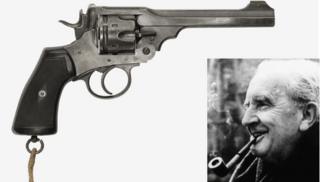 The revolver used by JRR Tolkien, the author of The Hobbit and The Lord Of The Rings, at the Battle of the Somme has gone on show in Greater Manchester.
It is being displayed ahead of an exhibition marking the World War One centenary, which opens next year at the Imperial War Museum North in Trafford.
Tolkien's Webley Mk V was the standard British service revolver at the outbreak of the conflict.
He served as a second lieutenant with The Lancashire Fusiliers in the war.
The museum's director Graham Boxer said the weapon would allow visitors to "connect further with Tolkien's magical stories which were born from harrowing wartime experiences".
Tolkien gained a commission as a second lieutenant on his graduation from the University of Oxford in June 1915.
Trench fever
In 1916, he was posted to France with the 11th Battalion, The Lancashire Fusiliers.
While there, he fought in the Battle of the Somme which lasted from 1 July to 13 November, costing more than one million casualties.
The writer and his battalion occupied front-line trenches in Beaumont-Hamel, Serre and the Leipzig Salient.
However, Tolkien contracted trench fever by October and was sent back to hospital in Birmingham.
The condition left him invalided out of the war and it was during this period at this time that he began to write early versions of his "Middle Earth" stories.
Debate continues among scholars over the extent to which his war experiences influenced his literary output.
The exhibition 'From Street To Trench: A War That Shaped a Region' opens at the museum in April.