Grandmother Gene Hetherington collects wartime degree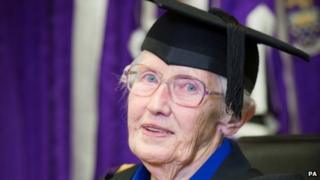 A 90-year-old woman has attended her graduation ceremony 70 years after she gained her degree from the University of Manchester.
Gene Hetherington achieved her BA in Commerce in August 1943, but was unable to attend the ceremony because she was involved in the war effort.
Following her studies, she went to work as an auditor in aircraft factories.
She graduated alongside her granddaughter, who was collecting her law degree in the same ceremony.
Mrs Hetherington, from Sutton Coldfield, said she had not been back to Manchester for 50 years.
"The ceremony was wonderful and I was so pleased to see my granddaughter Rachel receive her degree, for which she worked so hard", she said.