Manchester Cathedral opens after £2.3m heating re-fit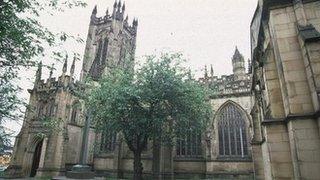 A £2.3m heating system will take "two weeks" to heat Manchester Cathedral so people were told to "dress warmly" for the official reopening.
The Grade I-listed building in Victoria Street was closed in April in order for the under-floor system to be replaced.
But, the system "will not be fully functional" until next year, to ensure it works for the next 50 to 60 years, said officials.
The cathedral planned to warm the building up with air heaters.
Nave dug up
The rededication service will end later with a fireworks display from the tower.
Dean of Manchester Cathedral, the Very Reverend Rogers Govender said the old heating system had "died".
Most of the cathedral nave was dug up to replace the old pipes.
In a statement, the cathedral said: "We need to switch it on very slowly indeed so that the floor underneath properly sets and cures.
"This means that it will not be fully functional until next year.
"Our new heating system will need time to bed in, so please dress warmly as the cathedral will still be relatively cold during this period."
Services were carried out in a temporary wooden cathedral that was opened alongside the stone building.
In recent years, the cathedral has increasingly been used as a venue for concerts by bands including Elbow, as well as formal dinners and awards.