Salford Royal Hospital praised over low death rates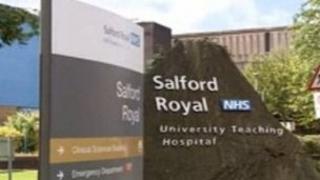 The NHS trust that runs Salford Royal Hospital has been named the north of England's Trust of the Year.
Salford Royal NHS Foundation Trust received the accolade in the annual hospital guide produced by the Dr Foster research group.
It was praised for lower than expected rates of deaths in-hospital and within 30 days of patients being discharged.
Mortality rates are in the best 10% nationally and the best outside London, the report said.
Chief executive David Dalton said the trust worked hard to deliver "safe, clean and personal care to every patient, every time".
He said: "Since 2008, we have reduced MRSA blood stream infections at the trust by 96%, Clostridium difficile by 90% and cardiac arrests by 60%.
"We are really pleased with our progress and will continue to work hard to improve patient safety at our trust."