Football fan rescued from mud and ice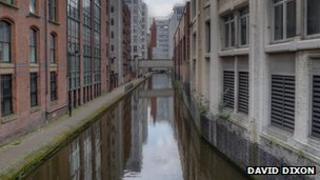 A 19-year-old man has been rescued after he became stuck in mud and ice by a Manchester canal.
Fire crews found the man four metres below ground at about 05:30 GMT by the Rochdale Canal, near Princess Street.
It is believed the man had been visiting the city to watch a football match. He was taken to hospital suffering from mild hypothermia.
Greater Manchester Fire and Rescue Service said he "couldn't explain how he ended up on the bank of the canal".
Andy Simister, watch manager at Greater Manchester Fire and Rescue Service, said he was "lucky" to have been spotted by a security guard.
He said going near water "can be fatal during winter conditions".