Bishop David Walker enthroned as Bishop of Manchester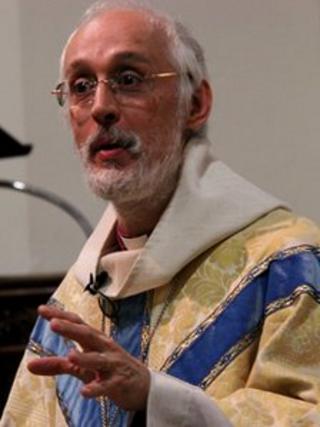 The new Bishop of Manchester has been enthroned at a ceremony in Manchester Cathedral.
The Right Reverend David Walker, who was born and grew up in Manchester, made a "pilgrimage" via tram and foot to the service earlier.
His journey started at St George's Church, Mossley, where he was baptised.
Hundreds of clergy and parishioners attended the ceremony for the 56-year-old father-of-two, which was relayed on a big screen outside the cathedral.
On the way to the service Bishop Walker took a "personal journey of faith" - on which he walked from Mossley to Ashton, took the Metrolink to Droylsden then Manchester's Etihad Stadium, and met people opening a food bank in Ashton.
He said he was "honoured" to take the role, adding: "It is humbling for me to return to my home city as bishop."
He replaced the Right Reverend Nigel McCullough, who retired in January after 10 years as Bishop of Manchester.