999 call 'errors' over baby Millie Thompson choke death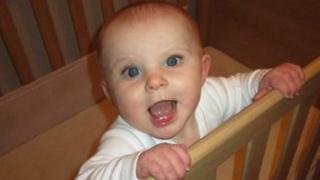 A 999 call handler made errors answering a call about a choking baby who then died, an inquest has heard.
Nine-month-old Millie Thompson started choking while being fed shepherd's pie at Ramillies Hall Nursery in Cheadle Hulme, Stockport, in October 2012.
Ambulance worker Aaliyah Ormerod, who took the emergency call, failed to grade it in the most serious category.
After hanging up, she was recorded as saying: "Jeez, stop giving me information."
Nursery staff told North West Ambulance Service employee Ms Ormerod Millie was choking, crying and still breathing but going "a bit purple".
'Devastated' over death
That should have triggered an immediate "red response" of an immediate threat to life, emergency control room manager Angela Lee told the inquest in Oldham.
However, Ms Ormerod went on to ask more scripted questions and then failed to stay on the line to monitor Millie's breathing.
The inquest heard Ms Ormerod, who did not attend the hearing, had said: "When told the patient was going purple, I did not click this indicated breathing problems."
The inquest was told the thought that her actions could have contributed to Millie's death had left her "devastated".
Control room manager Angela Lee told the inquest: "The call operator did not follow her training and did not identify Millie had ineffective breathing at the start of the call."
Coroner John Pollard said: "What I cannot understand is there can only be, in my mind, no more important a call than a baby choking."
Ms Lee replied: "I totally agree with you. She should have stayed on the line. It's unacceptable."
'Bombarded with details'
She said Ms Ormerod's mistakes had made no practical difference as to how quickly the ambulance arrived, but a rapid response car might have got there one or two minutes sooner.
Ms Lee said Ms Ormerod did not have an explanation as to why she did not stay on the line, but said she felt she had been "bombarded with details".
She told staff to stop slapping Millie on the back as it could further lodge any food stuck, put her on her side in case she vomited and call back if anything changed.
The inquest, which is being heard by a jury, heard Ms Ormerod had not been disciplined but all call handlers have since been retrained on calls regarding choking.
She returned to work six months ago in the same role, although a doctor ruled her medically unfit to give evidence at the inquest.
The hearing continues.