Till taken from McDonald's Salford drive-through window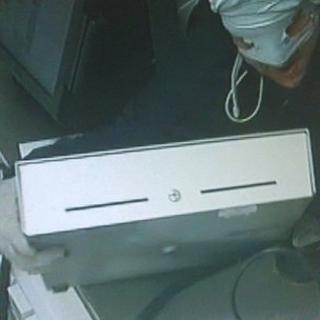 A man has held up a Salford McDonald's drive-through kiosk at gunpoint and stolen a cash drawer.
The man, driving a Fiat Punto, entered the drive-through on Bolton Road, Pendlebury, at 00:20 GMT on Monday.
He got out of the black car and pointed a handgun at the cashier. CCTV shows the man stretching through the window and pulling out part of the till.
Officers said he then drove off with the drawer, which contained hundreds of pounds in cash.
The man, who had partly covered his face, is described as white, of medium build and wearing a blue coat.
Det Con Daniel Worthington said: "Luckily the woman working that night was unharmed, but she is understandably very shaken about what happened.
"We have released images of the man and would ask the public to take a look and get in contact if it reminds you of anyone."