Khuram Shaikh death: 'Six charged' with Sri Lanka killing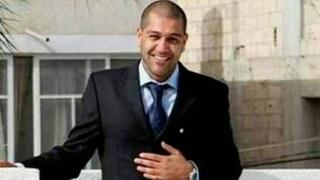 The news a trial date has been set for six men charged over the murder of a British aid worker in Sri Lanka has been welcomed by the victim's MP.
Red Cross worker Khuram Shaikh, from Rochdale in Greater Manchester, was shot and stabbed on holiday in 2011.
Rochdale MP Simon Danczuk said it was "encouraging" in a case which was a "test of Sri Lanka's credibility".
He said he had been told six men, including a Sri Lankan politician, were expected to go on trial on 2 December.
They have been accused of offences including murder, possessing unlawful weapons and the rape of a woman, the MP said.
Mr Danczuk aid it was an "encouraging development".
He said: "There have been concerns all along that political interference was preventing this case from moving forward because one of the suspects is a politician.
"We need to see justice being delivered without fear or favour and the fact that we now have a trial date is encouraging."
Cameron's concern
He added: "The case had become symbolic of wider problems with the rule of law following the impeachment of the Sri Lankan Chief Justice.
"Many Sri Lankans have said to me that it is impossible to get politicians or well connected people in the dock because they are immune from prosecution."
British officials, including Prime Minister David Cameron, have previously expressed concern at the slow pace of progress in the case.
However, Sri Lankan authorities said they were fast-tracking the case by omitting a preliminary inquiry, which would usually be held.
The Sri Lanka High Commission has previously confirmed in a statement that the case had been transferred from Tangalle to Columbo Magistrates Court "to prevent the alleged intimidation of witnesses".
Mr Shaikh, 32, who graduated from the University of Salford, had been working in Gaza for the Red Cross fitting prosthetics limbs, but was on holiday in the Tangalle resort.