Manchester's Mayfield Depot licence granted for club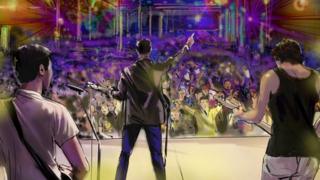 Plans to turn a disused Manchester railway station into a venue including, what is claimed will be, Britain's "largest nightclub" have been approved.
The Mayfield Depot Management Company wants to use the space for arts, music events and club nights.
Manchester City Council licensing committee granted a licence but with 79 conditions attached.
The next hurdle for the venture, which could open in the summer, is to obtain planning permission.
Councillor Pat Karney, Manchester City Council's city centre spokesman, said the conditions included "safeguards relating to CCTV, regular consultation with responsible authorities and fire safety" and a limit on 25 DJ-led events per year.
Jon Drape, the director of Mayfield Depot Management Company, said: "Being granted the premises licence today is a great step forward for us to help realise our vision for the next five years."
Regeneration zone
The depot on Fairfield Street will need safety and soundproofing work to transform it into a 7,500 capacity venue.
But it would only be used for five years when the former railway station is to be demolished as part of the area's regeneration.
The company wants to use it for events such as a food festival, concerts, fashion shows, film screenings, as well as a club venue.
The licensing application said it would be the UK's "largest club".
Potential collaborators include Manchester International Festival (MIF), Manchester Food and Drink Festival and the Warehouse Project.
The structure was the venue for a collaboration between musicians Massive Attack and film-maker Adam Curtis in July as part of the MIF.
Built in 1910, Mayfield Depot was first a passenger station, then a freight terminal, but has been empty since 1986.