Manchester to Leeds train catches fire in Rochdale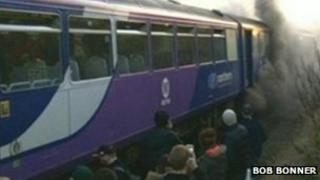 About 150 passengers had to flee a train on to the tracks in Greater Manchester after it caught fire.
The Northern Rail service between Manchester and Leeds stopped in Clegg Hall in Wardle, Rochdale, after passengers reported smoke coming from beneath a carriage at 15:30 GMT.
Greater Manchester Fire Service said no-one was hurt in the blaze, which involved a diesel tank under the train.
Northern Rail said there was no damage to the line and services have resumed.
Station manager Andy Bracken said: "The fire involved a diesel tank underneath the train on the middle carriage and because the fire was so intense it had spread up through the flooring.
"There was quite a lot of smoke because of the diesel involved but there were no reports of any injuries."
Fire crews remained on the scene for more than three hours to ensure the fire was fully extinguished.