18th Century Jewish Haggadah manuscript sells for £210k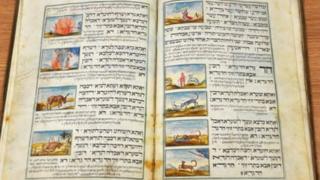 A Jewish manuscript found during a house clearance in Greater Manchester has fetched £210,000 at auction.
The rare Haggadah, a text used by Jews on the first nights of Passover, is thought to date back to 1726.
It was found in a cardboard soup box in the garage of a home in Bury. The Jewish couple who lived there had recently died.
It was listed at between £100,000 and £150,000.
Adam Partridge Auctioneers expected it to sell for more than the listed price as it had received several telephone bids ahead of the auction.
Experts believe the handwritten text, painted on goat skin, came to the UK after it was smuggled out of Belgium by a family during World War Two.