Fracking protesters set up camp in Salford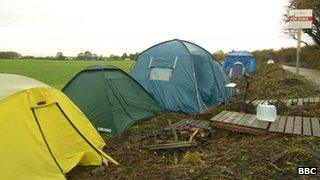 Anti-fracking campaigners have set up a protest camp at a site in Salford where exploratory drilling for gas is to take place.
Energy company IGas has permission to start drilling to see what type of gas or oil can be found at Barton Moss.
Five Frack Free Greater Manchester protesters are living in tents at the site and say residents support them.
IGas said its priority was to ensure minimal disruption to local people.
The firm said its target was to find coal-bed methane, but campaigners fear the process could lead to the discovery of shale gas and future fracking to extract it.
'People are worried'
Barbara Keeley, MP for Worsley and Eccles South, has previously expressed concern that the exploratory drilling could affect house prices and people's quality of life.
Rachel Thompson, one of the protesters living at the site, said: "It's about climate change; we will not hit our already disastrous targets if we continue with fracking.
"We've been door-knocking and not found a single person pro-fracking. People are really worried, they don't feel listened to."
IGas said drilling at the 1.8-acre site - the size of a football pitch - should take 12 weeks.
If large volumes of coal or shale gas are found, further drilling will be subject to separate planning applications and consultations.
Shale gas extraction, or fracking, involves the hydraulic fracturing of the ground using high-pressure liquid containing sand and chemicals to release the gas.
An IGas spokesman said: "We respect the right to peaceful protest. However, our priority is to ensure that there is minimal disruption to local people in the communities where we operate."
Earlier this year, the British firm said there could be up to 170 trillion cubic feet (4,810 cubic km) of gas in the areas it is licensed to explore in northern England.