Typhoon Haiyan: Manchester professor leads emergency medical team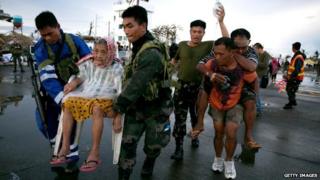 A professor of international emergency medicine at the University of Manchester is leading a medical team heading to the Philippines to help those affected by Typhoon Haiyan.
Professor Anthony Redmond will lead 12 doctors, surgeons and nurses.
He said the first thing they would do on arrival would be "surgery on untreated wounds that may have already become infected".
The team form part of the government's £10m relief efforts for the disaster.
Professor Redmond, who has been leading British medical response teams in disaster zones since 1988, said the team were heading to Manilla to meet with colleagues from the World Health Organization, the local department of health and the Department for International Development.
'Growing in momentum'
He said: "We've had discussions with them already about what our capability is, what their needs are, and they will deploy us on from there as soon as we arrive."
"With all the destruction, there will be a lot of injuries on the survivors and because the health service has been so severely affected, there will be a whole range of other conditions that have not been able to get treatment.
"The first thing we will be doing is surgery on untreated wounds that may have already become infected or certainly to prevent them becoming infected.
"Then we will be looking at the other range of conditions that present to us."
The team are taking a range of medical supplies with them with "the facility to get more in as we learn more about what the true needs are".
Professor Redmond trained in emergency medicine in the UK and the USA and is a registered specialist.
He has provided emergency humanitarian medical assistance for over 20 years, responding to natural disasters, major incidents, conflicts and complex emergencies throughout the world, including a deployment to Haiti following the earthquake in 2010.
Speaking about the Philippines disaster, he said "there is now a much more joined-up medical framework of teams going in".
"We are one part, but we are part of a much bigger effort that is growing in momentum."