Pussy Riot banner at Manchester City match seized by stewards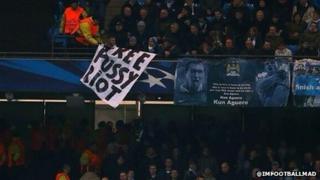 A banner unveiled ahead of Manchester City's tie with CSKA Moscow stating "Free Pussy Riot" was taken down by stewards at the Etihad Stadium.
The sign was unfurled at the Champions League match in Manchester on Tuesday.
Members of Pussy Riot, a Russian punk band, were jailed in August last year for staging a protest against Russian President Vladimir Putin in Moscow.
A Uefa spokesman said "banners of political message or meaning" were not allowed at its games.
He added the banner was not mentioned in the official match report, but "the venue team asked the stewards at the stadium to remove it".
Pussy Riot members Yekaterina Samutsevich, Maria Alyokhina and Nadezhda Tolokonnikova, were found guilty of "hooliganism motivated by religious hatred" and given two-year jail terms.
Samutsevich's sentence was later suspended.
Earlier this week, it was reported that Tolokonnikova had vanished from sight since she was moved to a new prison last month.
Manchester City won Tuesday night's game 5-2.