Manchester United's first FA Cup final programme fetches £16k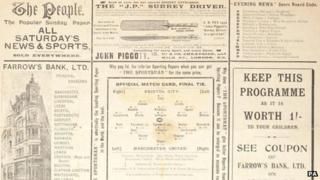 An official programme from Manchester United's first FA Cup final has sold for £16,000 at Sotheby's in London.
The programme from 1909, when Manchester United beat Bristol City at Crystal Palace, included team line-ups and a children's coupon worth one shilling.
Graham Budd Auctions Ltd, who sold it, described the programme as "very scarce" and in good condition.
Last year a 1909 FA Cup Final programme sold at Sotheby's for £23,500.
Manchester United won the final, the first of their 11 FA Cup wins, thanks to a first-half goal from Sandy Turnbull.
The match was the only time Bristol City have reached the FA Cup final.
Tom Derbyshire, news editor of Antiques Trade Gazette, said: "As this match was United's first FA Cup final appearance, and indeed the first time they won that competition, it is very desirable."
The document was part of 900 lots of sporting memorabilia being auctioned.