Plans to open hard shoulder on Greater Manchester motorways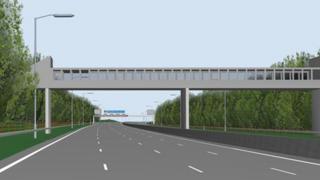 The hard shoulder of a busy stretch of motorway near Manchester is set to open as an extra lane during busy times, the Highways Agency has announced.
The two-year scheme will create a 17-mile (27km) "managed motorway" stretch from junction 8 of the M60 to junction 20 of the M62.
A Highways Agency spokesman said once finished it will "improve congestion and make journeys more reliable".
But the RAC said it had concerns about opening the hard shoulder permanently.
The project is expected to run from next summer to 2017.
Overhead gantry signs controlled by the Highways Agency will set variable speed limits and tell drivers when the hard shoulder is open.
Under the project, the hard shoulder on one section of the stretch could become a permanent extra lane, with new "refuge areas" created for emergencies.
About 180,000 vehicles a day currently use the route, which suffers from "heavy congestion and unpredictable journey times".
'Severe reservations'
Similar schemes have already been introduced on other roads, including the M42 in the West Midlands and recently the M62 in West Yorkshire.
Simon Williams, from the RAC, said the group had "severe reservations" about opening a stretch of hard shoulder permanently.
"On the dynamic hard shoulder schemes there are emergency refuge areas every 500 to 1,000 metres," he said.
"On these all lane running schemes they are going to be up to 2.5km (1.5 miles) apart, so that puts the person breaking down or having an accident in a very difficult situation should they not be near one of these emergency refuge areas."
Several public meetings have been organised for the public to hear further details about the work.