Sarah McCabe: Salford solicitor's clerk jailed for texting inmate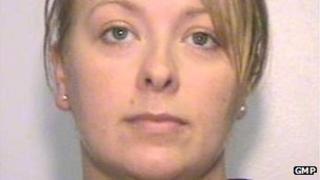 A solicitor's clerk who repeatedly texted a man on remand in prison has been jailed for six months.
Sarah McCabe, 33, of New Cross Street, Salford, pleaded guilty to encouraging or assisting the commission of an offence.
Greater Manchester Police said McCabe texted Ryan McDonald despite knowing he had a contraband mobile phone.
McDonald and another man later escaped from a prison van as it made its way to court from a Merseyside jail.
McDonald and Stevie McMullan have both pleaded guilty to escaping lawful custody and are due to be sentenced on 28 February.
'Paid the price'
Police said McCabe's offences took place between 22 March and 23 April.
Elisa Hopley, senior crown prosecutor at Crown Prosecution Service, said: "As a legal representative Sarah McCabe had a duty to uphold the law, but in choosing to communicate with a client on a mobile phone in prison she broke the law.
"Today she has paid the price for doing so."
She said: "The possession and use of mobile phones by prisoners within prison is a serious matter, so serious that unauthorised possession of them is against the law.
"The use of mobile phones in prisons causes real problems with security, bullying and disorder inside prisons and leads to the planning of further criminal activity and to threats and intimidation to the public outside prison."