James Anderson: England fast bowler fined for speeding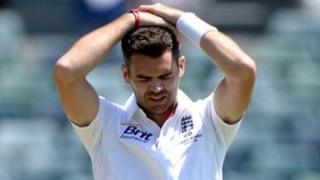 England fast bowler James Anderson has been fined £265 after he was caught breaking the speed limit in his Jaguar.
The 31-year-old cricketer, who can bowl faster than 80 mph, was caught driving at 58 mph on the Kingsway, in Cheadle Hulme, on 23 April.
The speed limit on the road is 50 mph, Stockport Magistrates' Court heard.
Anderson admitted the charge but did not attend Thursday's hearing as he is currently with the Ashes squad in Australia.
He was ordered to pay £35 costs and a £26 victim surcharge while three penalty points were also added to his licence.