Thief pulls help alarm off woman, 92, during Bolton robbery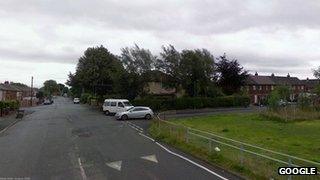 A thief pulled a 24-hour help alarm from a 92-year-old woman's neck then grabbed her cardigan and shook her while demanding cash during a robbery.
He then fled with her purse, which contained a small amount of cash, after the robbery in Springfield Road, in Bolton, on Saturday.
The woman was sitting in a living room chair wearing her Careline pendant when the man smashed through a ground floor window of her home at 21:20 BST.
She was taken to hospital for checks.
The woman was kept in hospital under observation, police said.
'Wicked crime'
Det Sgt Lee Shaw said: "To break into the home of a 92-year-old woman is bad enough, but to then physically attack this woman - who is clearly vulnerable and has no capacity to defend herself - is reprehensible and the actions of a desperate coward.
"He has subjected this woman and her family to a completely unnecessary and frightening ordeal for the sake of just a few pounds."
He added: "There is no room for loyalty in crimes as wicked as this and even the criminal fraternity will be appalled that someone can stoop so low."
Police said the thief, who was wearing a face covering, fled towards Birch Road after the robbery.
A Careline pendant is linked to a call centre which provides assistance when the alarm is pressed.
It is aimed at elderly people who are at risk of falls, have health problems, live alone or are a victim of domestic violence, for example.