Greater Manchester Police seize cash, drugs and fake goods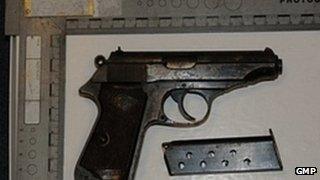 Counterfeit goods worth £2m, more than £330,000 of drugs and £25,000 cash, have been seized in a crackdown on organised criminal gangs.
Greater Manchester Police (GMP) seized the illegal goods as part of Operation Challenger, set up to "dismantle" organised criminal gangs.
More than 50 people have been arrested and weapons such as high-powered air rifles recovered.
GMP said through Challenger it was "declaring war" on criminal networks.
Officers are working with local authorities, the Department for Work and Pensions and other organisations to tackle these gangs.
'Systematically dismantling gangs'
There are currently more than 160 known organised criminal gangs and around 500 criminal networks in Greater Manchester, police said.
Officers have arrested people on suspicion of offences including drugs, firearms and money laundering.
More than 100 warrants were carried out to target drug dealers, loan sharks, rogue landlords and counterfeit good suppliers.
Around 50 tonnes of counterfeit goods including fake trainers, watches and clothing were seized from three properties in the Strangeways area of Manchester.
A BB gun, a Taser and a baton and seven high-powered cars were also recovered by police.
Det Ch Supt Rebekah Sutcliffe said: "Through Challenger we are now declaring war on these criminal networks who for too long have been bullying communities and enjoying a lavish lifestyle.
"Challenger is not about cutting off the head of a monster - it is about systematically dismantling these gangs member by member and making it impossible for them to operate."
'Clear message'
Challenger is the largest multi-agency bid to tackle organised criminal gangs in Manchester's history.
The force's operation is supported by the Police and Crime Commissioner for Greater Manchester, the Home Office and the National Crime Agency.
Jim Battle, Deputy Police and Crime Commissioner for Greater Manchester, said: "These so-called 'Mr Bigs' think they can control our communities with a grip of fear.
"But the action taken by police, local councils and other agencies this week sends a clear message to these abhorrent individuals that there is no place for you in our communities."