Tennesh Massaquoi jailed for 'campaign of abuse' against boy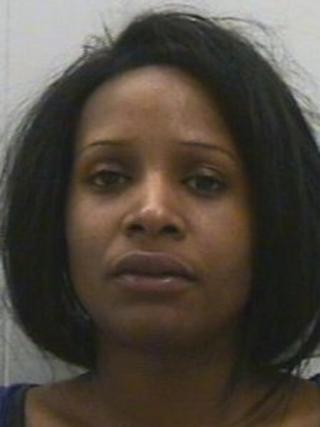 A woman who inflicted a "catalogue of injuries" on a young boy during a "relentless campaign of abuse" which lasted two months has been jailed.
Police said the five-year-old sustained chemical burns to his face, a black eye and bruising to his legs, torso, chest and genitals over the period.
Tennesh Massaquoi, 29, of Chain Road, Blackley was found guilty of four counts of child cruelty.
She was jailed for five years at Manchester Crown Court.
Police said the boy's injuries were discovered when he was taken to hospital in July last year for treatment for facial injuries.
Staff had been told that he had sprayed a bottle of bathroom cleaner onto his cheek, officers said.
Medical examinations found further injuries, which the boy was initially "reluctant to answer any questions".
Hot coffee
Experts found the injuries could not have been caused accidentally, with the bruising likely to have been caused by "punches and kicks".
The child also had a burn to the neck, which was "most likely to have been from hot liquid being poured onto him deliberately", police said.
After careful questioning, the boy revealed Massaquoi had kicked him and poured hot coffee on him "on purpose".
Det Con Kate Burrows said that "not only was this boy severely injured, he was also a terrified and traumatised child, who has been through more than any five-year-old should ever have to endure".
She added that the boy now had a "safe future and he can get on with enjoying his childhood".