Manchester Airport 9,000 space car park plan given approval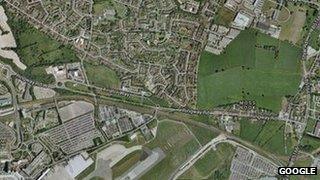 Fields near Manchester Airport will be turned into a 9,000 space car park after councillors approved plans.
The 70 acre (28.5 hectare) site lies in Wythenshawe to the north-east of the airport.
Dozens of residents had objected to the plan, fearing a decline in property values, loss of green views and traffic congestion.
Planning officers backed the plans saying the airport was a "catalyst for the regional economy".
The airport said it was working with residents to "address any concerns".
Petitions containing more than 2,200 signatures were submitted to Manchester City Council objecting to the plan and concerns were also raised by 34 residents and a local residents association.
They said they could be affected by noise from car alarms set off by aircraft and by people parking on their streets to take advantage of the park-and-ride while avoiding charges.
'No detrimental impact'
In a report to the council, planning officers said it was "unlikely" that would happen.
The planners recommended the proposal for approval on the grounds that it was a "a vital component in the growth of Manchester Airport".
They also said it "will not have a detrimental impact upon residential amenity or highway safety".
Manchester Airport currently has eight public car parks with 15,595 spaces and eight staff car parks with 5,535 spaces. A 3,110 space car park closed in 2010.
The 24-hour car park will be sited between Styal Road, Ringway Road and Shadowmoss Road.