Anthony Grainger shooting: Family angry at IPCC report leak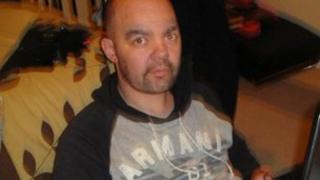 The family of an unarmed man shot dead by police are angry a report into Greater Manchester Police's (GMP) conduct has been leaked.
Anthony Grainger, 36, was shot in the chest after the car he was in was stopped in Culcheth on 3 March 2012.
The Manchester Evening News claims the Independent Police Complaints Commission (IPCC) report criticises GMP.
The IPCC and the force said they could not comment.
'Promised for months'
The family's solicitor Jonathan Bridge said they were "very shocked and very upset" to have learned of the apparent findings in a newspaper.
He said: "We have been promised a copy of this report now for many months and this is the report we assume that has been leaked to the Manchester Evening News by GMP.
"[The IPCC] keep putting the date back because of a possible prosecutions of officers involved in the shooting.
"We have had to given very strict undertakings about when we receive the report that we do not disclose it yet GMP seem to have released quite pertinent details and the family have found out about it from a local reporter."
In a statement, the watchdog said: "The IPCC delivered a file of evidence to the Crown Prosecution Service (CPS) in July.
"While we await the outcome of their considerations it would be entirely inappropriate to comment or speculate on the findings of the investigation."
'Potential offences'
GMP Deputy Chief Constable Ian Hopkins said: "We are unable to comment on these matters as the Crown Prosecution Service is still considering the matter and it is also the subject of a coronial inquest.
"It is 19 months since the incident and it is important that these legal processes are allowed to take their course unimpeded, in order to seek resolution for both the family of Mr Grainger and the officers involved.
"It is not in anyone's interests for this matter to be delayed and I hope that matters are brought to a conclusion soon."
The IPCC has said Mr Grainger, who was originally from Salford, was shot in the driver's seat of a stolen red Audi with false registration plates.
GMP officers shot the car's tyres twice and threw a CS canister into the vehicle.
The IPCC confirmed no firearms or weapons were found on Mr Grainger when he was shot in the car park.
The watchdog has previously said the officer who shot Mr Grainger had been interviewed on suspicion of committing a criminal offence.
It said potential offences he could be charged with include manslaughter and murder.
The CPS said a decision on whether to bring criminal charges has yet to be made.