Apology call over Gunner Robert Cutting's death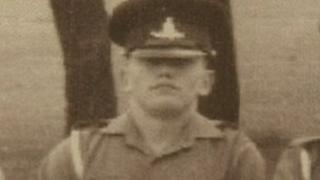 The family of a teenage soldier killed in a so-called friendly fire incident in 1972 is calling for an apology from the Ministry of Defence (MoD) .
Gunner Robert Cutting from Blackley, Manchester, was shot four times by a colleague while on patrol in Belfast.
His sister, Irene Pratt, said the MoD had treated the family "appallingly" as there had been no inquiry into his death at the time.
A spokesman for the MoD said they were "carefully considering" the case.
He added: "We will respond in due course."
'Crawl away'
Mrs Pratt said she had waited 40 years for official confirmation of how and why her brother died.
Last year the family was granted a review into the case by the Police Service of Northern Ireland's Historical Enquiries Team, set up to re-examine deaths resulting from the Troubles in Northern Ireland between 1968 and 1998.
The review confirmed the army had not convened a board of inquiry to investigate Gunner Cutting's death at the time.
After reading the review, Mrs Pratt said: "It's now in black and white that he was shot once, he went down and the shot that killed him was when he was trying to crawl away.
"I'm absolutely disgusted.
"[The MoD] have been in receipt of this report now for 10 weeks and we've had no response."