Residents concerns over Manchester Airport's 9,000 space car park plan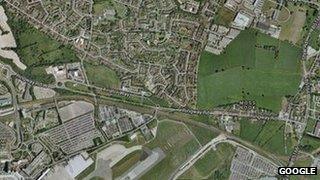 Residents opposed to Manchester Airport's plan to turn a nearby field into a 9,000 space car park are meeting to discuss their concerns.
The group from Moss Nook, Wythenshawe, want the site to remain as farmland and fear airport passengers will park on residential roads to dodge charges.
Manchester City Council planning officers have recommended the surface car park is approved by councillors.
Manchester Airport is working with residents to "address any concerns".
The 70 acre (28.5 hectare) site - which is about the size of 70 football pitches - is not greenbelt land. The fields are leased for grazing.
'Desert of cars'
Manchester Airport currently has eight public car parks with 15,595 spaces and eight staff car parks with 5,535 spaces but a 3,110 space car park closed in 2010.
The 24-hour car park is earmarked for the Styal Road, Ringway Road and Shadowmoss Road, area which is to the north east of Manchester Airport.
One resident, Rod Havercroft, said: "My neighbours used to be cows and sheep. I shall now get a desert of 9,000 cars."
Mr Havercroft, who welcomed the airport's plan to develop its £800m Airport City site, said local people would suffer.
He said: "It is wonderful for creating jobs but it is not wonderful for the people who lose their view, their gardens and their amenities and their way of life.
"It is a price too high to pay."
Concerns have been raised to the council that the car park will see customers parking in surrounding residential streets and then use shuttle buses to travel to the airport.
In the planning report, officers said it was "unlikely" that would happen.
The proposed car park is part of Manchester Airport Group's overall development of the site.
A Manchester Airport spokesman said: "We always take a pro-active approach to consultation and we welcome the thoughts from stakeholders and the local community.
"We have listened to the comments of local residents and we will continue to work with them in order to address any concerns people might have."
Over the past two years, the airport has seen an increase of passengers by more than 20 million per year.
The application will be discussed at a council planning meeting on 24 October.