Failures allowed 10-year-old into UK on woman's passport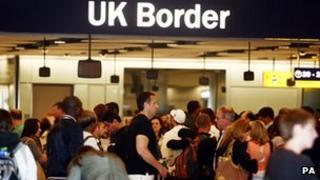 A catalogue of failures allowed a trafficked 10-year-old into the UK on a woman's passport, the BBC has found.
She arrived at Heathrow Airport "in possession of a valid Pakistani passport showing her to be a 20-year-old adult".
Airline and medical staff missed the deception involving Ms A in May 2000.
The Home Office said it was a shocking case and "several organisations in Pakistan and the UK failed to identify the victim's true age".
An immigration officer failed to identify she was a child, as did medical staff who took a chest x-ray when she was stripped to the waist.
There were also two further arrivals at Manchester airport where officials failed to notice the discrepancy, likewise officials in Pakistan missed it during three exits and two entries to the country.
The couple who trafficked her are now facing jail lengthy jail terms.
X-ray missing
Ms A said she was made up to look older than she was and was "apparently in possession of a genuinely issued and valid Pakistani passport and UK entry clearance, which might explain why the immigration officer's suspicions were not aroused," a security source said.
Two Pakistani passport issuing officers and one UK visa officer issued documents to her in an identity 10 years older than her real name.
Logs show she was x-rayed at Port Health in Heathrow and examined by a doctor, and was not recorded as a child. However, the x-ray is missing from her files.
Seven airline check-in agents also failed to notice the discrepancy.
The court hearing for the couple who trafficked her was told there may be "significant and proper" criticism of the Border Agency whose role had "a good deal to answer for", the prosecution said.
A Home Office spokesman said: "The new National Crime Agency will lead an enhanced and co-ordinated response to targeting trafficking gangs, and we will be overhauling and updating legislation by bringing forward a draft Modern Slavery Bill this session.
"The Home Secretary has made clear her determination to tackle the scourge of modern slavery and the criminals behind it.
"Action is being taken on a number of fronts and we are working with frontline professionals, including border officers, to help them better identify and support potential victims."