Khuram Shaikh: Sri Lanka urged to speed up death probe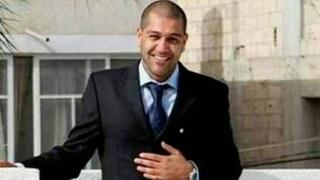 Britain has urged Sri Lanka to speed up the investigation into the death of aid worker Khuram Shaikh, who was killed on holiday on Christmas Day 2011.
Sri Lanka's High Commissioner John Rankin said he hoped progress would be made following David Cameron's visit for a Commonwealth summit.
Red Cross worker Mr Shaikh, 32, from Milnrow, Rochdale was shot and stabbed.
The main suspect has links to the government. Eight people have been arrested and bailed so far.
"The events occurred almost 22 months ago," said Mr Rankin.
"But despite the swift arrests and the repeated assurances from the authorities, indictments are yet to be served in the case and the suspects currently remain free."
'Heinous crime'
British human rights campaigners and some MPs are unhappy at Mr Cameron's decision to attend next month's gathering of Commonwealth leaders in Sri Lanka.
But Mr Rankin said officials would use the event to press for justice over Mr Shaikh's murder.
According to the Sri Lankan press, police say that among the DNA samples taken from the scene are some matching three leading suspects, including town council leader Sampath Vidanapathirana, who is a member of the country's ruling party.
Mr Cameron told parliament last week he would use his visit to emphasise Britain's unhappiness about aspects of the country's human rights record.
He has also asked for full details of Mr Shaikh's case so he can raise the issue.
A spokesman for the Foreign and Commonwealth Office said: "The British Government regularly impress upon the Sri Lankan authorities the importance that we and the family of Khuram Shaikh attach to bringing those responsible to justice.
"They are in no doubt as to the seriousness with which we view these terrible events, and have assured us of the same.
"We hope that 21 months after this heinous crime the accused will soon face a fair trial, free from political interference.
"As the crime was committed in Sri Lanka, the authorities in that country are responsible for investigating."