Old Town Hall in Oldham redevelopment work begins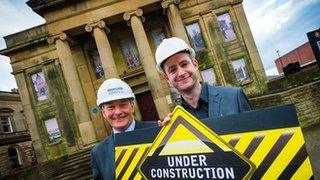 Work will begin to transform a Grade II listed building into a cinema and entertainment complex.
The seven cinema screens and six restaurants in the Old Town Hall in Oldham town centre will be built around the heritage areas of the hall.
These areas include the Egyptian Room, courtrooms and the facade of the historic building, Oldham Council said.
The development, which will open in 2015, is at the centre of the council's regeneration plans for the town centre.
The council-owned Old Town Hall has not been used since 1980. It has been subject to a number development proposals since the 1990s but they were unsuccessful.
'Inventive, resourceful scheme'
Construction firm Morgan Sindall Group plc were handed the keys to the site to begin work.
Jim McMahon, Oldham Council leader, said: "The Old Town Hall is a fantastic regeneration project - rescuing an important and historic building that was at risk of being lost forever and using it to spark economic growth and provide the amenities we need."
He added the development was backed by English Heritage.
Barry Roberts, area director for Morgan Sindall said: "It's encouraging to see the Old Town Hall being brought back into use through this inventive, resourceful scheme."
Planning permission was approved in October last year when Listed Building Consent was granted by the Department of Communities and Local Government.