Adam Downworth: Life sentence for serial sex attacker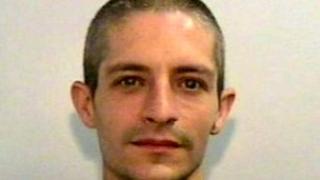 A man who read martial arts manuals before carrying out a series of violent sex attacks on five women as they walked home has been jailed for life.
Manchester Crown Court heard that Adam Downworth, 32, of Eastlea, Denton, read ninja and other self-defence books to learn how to overpower his victims.
A woman needed facial reconstruction surgery after one of his assaults.
He was told by the judge at Manchester Crown Court he would serve a minimum of 15 years in prison.
Downworth, who was convicted in August of two rapes, three attempted rapes, four sexual assaults and four assaults, was also put on the sex offenders register indefinitely.
His attacks took place late at night between December 2011 and September 2012.
The court was told Duckworth would often hide waiting to use techniques he had gleaned from fighting books later found at his flat - in one book he highlighted a chapter entitled "Chokes and Strangles".
Downworth's first victim was a 28-year-old woman he grabbed from behind, around the throat, before dragging her to a secluded area of Alexandra Park, Edgeley on 3 December 2011.
The sex attack was so violent she lost consciousness twice and suffered serious injuries to her face and body, including a broken nose.
Three months later he tried to rape a 27-year-old woman on Borrowdale Road, in Stockport, on 1 April 2012.
She managed to break free, shouted for help and he ran off.
'Horrifying ordeals'
His next victims, later that year, were in the Gorton area of Manchester where he sexually assaulted a woman, aged 23, on Tan Yard Brow on 12 May and a woman, 28, in Debdale Park on 1 July.
The woman in Tan Yard Brow was punched repeatedly in the face before he tried to strangle her. Downworth's attempted sex attack ended when he was disturbed by car headlights.
Police believe the woman in Debdale Park was thrown in a reservoir before a taxi driver fished her out of the water.
His last victim was a 49-year-old woman he pulled from a road into some woods on George Lane, Bredbury, on 16 September.
He subjected her to a "vicious" beating before raping her twice. Downworth was spotted fleeing by witnesses who gave police a description of him.
The woman's injuries were so bad she needed reconstructive surgery.
Cheryl Hramiak, from Crown Prosecution Service North West, said: "Adam Downworth subjected each of his victims to a truly horrifying ordeal.
"He targeted them because they were walking home alone late at night and set upon them violently and suddenly."