Manchester's Mayfield Depot vision set out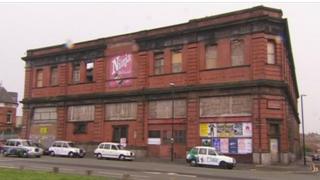 A consortium behind plans to turn a disused Manchester railway station into a cultural venue has set out its vision for the future.
The Mayfield Depot Partnership wants to use the space under Mayfield Depot for arts and music events and, if possible, Warehouse Project club nights.
Mayfield Depot Partnership (MDP) director David Norris said an open day detailing its five-year plans had been "on the whole well received".
He said it was early days but exciting.
'Rise to challenges'
The depot on Fairfield Street, which will need work to make it safe and soundproof, would only be in use for five years, at which point the former Manchester Mayfield railway station building will be demolished as part of a regeneration of the area,
MDP says it wants to "rise to the challenges of the building" and use it for events such as a food and drinks festival, concerts, fashion shows, film screenings as well as a club venue.
Mr Norris said it was still "early days" but an application for a premises licence had been submitted and he said the aim was to submit a planning application by the end of this month.
He said discussions had started with potential collaborators including Manchester International Festival (MIF), Manchester Food and Drink Festival and the Warehouse Project.
Mr Norris said: "We would love [the Warehouse Project] to move in. We have started initial conversations but nothing has been agreed.
"It's a long time away. We need to get our premises licence and our planning application and, once they have been agreed, then hopefully they and other music and cultural promoters will come to the venue."
'Extraordinary environment'
Massive Attack and film-maker Adam Curtis staged a collaboration at the depot in July, holding a live show as part of the MIF.
MIF chief executive officer and artistic director Alex Poots said he wanted to build on that success.
"Last summer we took a great building in Manchester and re-imagined it as a great cultural space," he said.
"Over the next few months we will be talking to artists about commissioning and creating work that will make the most of this extraordinary environment."
Subject to planning permission, events could be staged at the depot by next summer, he said.
Built in 1910, Mayfield Depot was first a passenger station, then a freight terminal, but has been empty since 1986.