TWP venue starts testing seized drugs to alert clubbers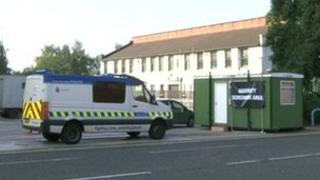 A nightclub in Greater Manchester is beginning a project to examine the quality of seized drugs.
The Warehouse Project in Trafford (TWP) said confiscated drugs would be tested within minutes at a laboratory on site.
The aim of the project, which TWP says has Home Office backing, is to check for tainted drugs and then warn clubbers via Twitter if any are found.
A 30-year-old man died last month after falling ill at the club. Fifteen others needed hospital treatment.
The club said the scheme, which begins on Saturday, had been organised before the death of Nick Bonnie, from Stroud in Gloucestershire, who died on 28 September.
The pilot is being run in conjunction with drugs charity The Loop, and TWP believes it to be the first of its kind in the country.
'It will never leave us'
Sacha Lord-Marchionne, director of TWP said: "Everybody gets searched on the way in. We pay for private policing on the door.
"We know [drug-taking] goes on so we try to put all these preventative measures in place and make it as safe an environment as we can."
Greater Manchester Police is investigating whether a bad batch of drugs was the cause of Mr Bonnie's death and the health problems suffered by the other clubbers.
Mr Lord-Marchionne said the club was devastated by Mr Bonnie's death.
He said: "If our customers weren't weren't at The Warehouse Project they would go elsewhere.
"But that doesn't matter, it doesn't take away from the fact that we saw it happen and it will never leave us."
The Trafford Wharf Road venue said it had increased security and introduced an on-site doctor for emergencies following the death.
A week after Mr Bonnie's death, a 32-year-old woman became critically ill at the club after taking drugs.
The clubber contacted the TWP's doctor when she started to feel unwell and was taken to hospital for treatment. She has since recovered.
The Home Office has yet to comment about the pilot project.