Susan May's 20-year fight against murder conviction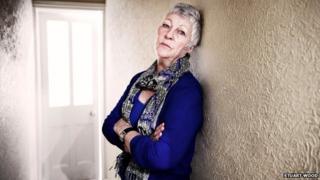 For the past two decades Susan May says one goal has consumed her every waking thought - to clear her name and overturn her conviction for the murder of her aunt.
The 68-year-old was jailed in 1993 for the murder of Hilda Marchbank, found suffocated at her home in Royton, Greater Manchester.
"That people could think I could do that to the aunt I loved was the worst thing, and that justice wasn't being done for her," she says.
As her carer, Ms May visited her aunt several times a day and it was she who called police on discovering the body.
Initially the murder was thought to be a burglary gone wrong, but the finger of suspicion turned on Ms May and weeks later she was arrested at her home.
'Very naive'
"I just thought 'I'm innocent, this will all be sorted out'. I was very naive," she says.
"When the jury said 'guilty' I was numb, I remember banging on the glass box shouting 'no, no, no' and saying to my children 'help me'. It was the beginning of a nightmare.
"When I got to prison I just kept saying to the staff that I'd be out of there soon and I refused to decorate or personalise my cell.
"I really did think that each time my cell door opened it would be someone to take me home.
"I spent every day of my 12 years inside writing letters to anyone I could think of - MPs, campaign groups, newspapers."
During the course of her campaign, Ms May estimates she and her supporters have written thousands of letters and compiled hundreds of dossiers of legal documents.
Originally a hairdresser in a small market town bringing up three children, Ms May has become something of a legal expert. She says she has instructed high profile barristers, including Michael Mansfield QC, and found what she believes to be new evidence through her own research and determination.
Her mother, who believed in her innocence, died when she was in prison.
Now her main supporters are Dorothy Cooksey, 68, a Royton woman whose house is now filled with legal files, and Geoff Goodwin, 65, a former builder who has become a self-taught expert in forensics.
They spent months combing through the evidence to help build the case for the Criminal Cases Review Commission's (CCRC) latest investigation.
'Spark of hope'
"I'll be on the phone to them every day asking 'what about this', 'have we checked that'," Ms May says.
"There's so much to wade through and every now and again we come across something that gives us a spark of hope that it could prove the key to overturning the conviction."
Now the group hope they have found that key in a new report by fingerprint expert Arie Zeelenberg, former head of the Dutch national police fingerprint service.
Having examined recently unearthed police photographs of marks on the wall, said by the prosecution to be Ms May's "handprints in blood", he concluded there was "overwhelming evidence" they could not have been made in blood at all. No tests have proved what the substance is.
The broken lines of the ridges and spots around the pores are characteristics found in sweat marks, he said. If the finger was covered in blood it would have spread evenly over the ridges.
Mr Zeelenberg also points to the lack of photographs of the marks before treatment as evidence that police did not initially think they were important to the case, as obvious "bloody handprints" would have been.
'Tired of waiting'
"It's all-important," Ms May said. "When I saw [the report] I couldn't believe it, I was jumping up and down for joy.
"Him saying it was sweat marks and not blood marks, and further to say 'I'm not even happy to say it's Susan's print, the photos aren't good enough'…that's what I've been saying all along."
The findings have been passed to the CCRC, which will decide whether to send Ms May's case back to the Court of Appeal.
She said: "I'm weary and tired of waiting. Can't they rush it because I've got this report which is fantastic, it's powerful - the best thing that's happened in 21 years."
Ms May was released from prison on parole in 2005 but told reporters at the prison gates: "I will never be free until I get justice for my aunt and prove I am not a murderer."
Since then her campaigning has stepped up a gear and seen her help others fighting their own convictions.
Having experienced first-hand the "loopholes, hurdles, bureaucracy and barriers" of the justice system, Ms May is also lobbying for its reform.
'Can't give in'
"When I tried to appeal the first time I was told I couldn't use any evidence that had been available at time of trial - even if my original solicitor hadn't used it, and nor could I use a complaint about representation as a basis for an appeal," she said.
"I've personally had to seek out other experts and beg them to look at my case - fortunately people have been very supportive.
"The CCRC has already agreed some witnesses have been discredited, but still said it's not enough for a jury to return a different verdict - I can't understand it but I won't give up.
"After every knock down I get straight back up and pick up my pen."
Ms May is currently fighting a recurrence of cancer - which she believes is due to two decades suffering the stress of trying to prove she is the victim of a "terrible miscarriage of justice".
"It's destroyed my family in some respects," she said. "It's certainly destroyed my health.
"I've had a few scares, but the fight to clear my name will help me overcome that because I'm determined to see it through.
"I can't give in and I can't let it go. I won't rest until I've got justice for my aunt."