Pedigree dog cruelty: Bury breeders banned for 10 years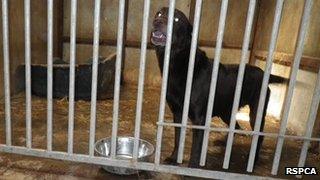 A pedigree dog breeder and his son have been banned from keeping animals for 10 years after admitting cruelty charges.
Almost 140 dogs including Labradors and collies were found in poor conditions with untreated medical problems, Bury and Rochdale Magistrates' Court heard.
Jeffrey Speakman, 66, and his son Richard, 22, both of Bury, Greater Manchester, were sentenced to four months in jail suspended for 12 months.
The RSPCA said the dogs were being used as "breeding machines."
Jeffrey Speakman admitted 13 counts of cruelty while his son pleaded guilty to 11 offences under the Animal Welfare Act 2006.
'Profit before welfare'
During the seizure, a chocolate Labrador was found dead.
She had died from an untreated womb infection and septicaemia.
A puppy also died days after being rescued and an Alaskan malamute did not receive medical treatment for a neurological disease.
The men, both of Bentley Hall Road, also placed 62 dogs in an unsuitable environment, 40 dogs did not have an adequate supply of fresh drinking water and 23 had beds with sharp edges, the court heard.
Some of the animals had untreated medical conditions including eye problems, ear problems, lameness and parasites in the digestive system.
RSPCA inspector Jason Bowles said: "Some of the dogs were six years old and have been used as nothing more than 'breeding machines', producing litter after litter of puppies to be sold for £250 plus each.
"In interview, the Speakmans said they sold 400 or 500 puppies a year.
"The Speakmans put profit before welfare, as these types of businesses do."
He added they were "sold a little bit cheaper than they would normally be".
The animals were taken by the RSPCA during a visit with a vet, police and Bury Council's environmental services.
Magistrates ordered the men to each pay £500 costs.
The seized dogs have since been rehomed or are waiting to be rehomed, the RSPCA said.