Man rescued from waist-deep mud in Manchester city centre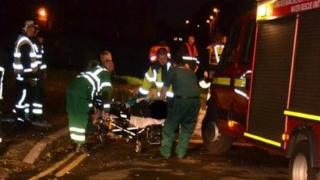 A man who was trapped in mud up to his waist after falling down a 50ft (15m) embankment in Manchester city centre, has been rescued.
The man, 27, was pulled from the mud next to the River Irwell, Victoria Street, on Friday, Greater Manchester Fire and Rescue Service said.
He was rescued by boat and taken down the river to waiting paramedics.
The man, who was thought to be suffering from hypothermia, spent the night in hospital.