BBC weatherman Simon King delivers own baby daughter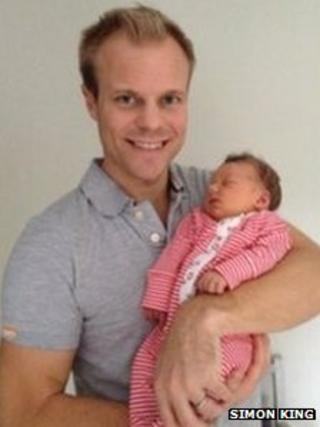 A BBC weatherman delivered his baby daughter at home when his wife's labour took much less time than expected.
Simon King, 32, a weatherman based at MediaCity in Salford, and wife Emma expected a long labour as their son Noah, 2, took 12 hours to be born.
When Mrs King's waters broke at 02:30 BST on Saturday the couple stayed at home in Altrincham, but the labour quickly escalated.
"The whole idea of being in a hospital was out of the window," said Mr King.
He said: "The most petrifying thing for me was when I saw the head, the realisation of, I'm going to have to deliver the baby here in this bedroom."
Nell was born while Mr King was talking to a "cool-as-a-cucumber" 999 operator, who gave him instructions on what to do.
The weatherman for 5live and 6 Music said he breathed a "massive sigh of relief" when his baby girl produced her first cry.
He said he plans to retell the story of Nell's unusual birth on her wedding and significant birthdays.