Driver Aqab Hussain ploughed into victims in Manchester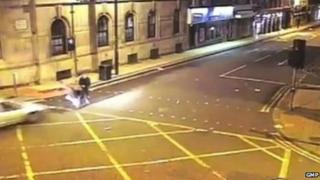 A man has been convicted of four counts of attempted murder after a "revenge" hit-and-run which left one victim with "life-changing" injuries.
Aqab Hussain, 21, of no fixed abode, was arrested and charged after he drove his Vauxhall Corsa at speed at four men in John Dalton Street, Manchester.
One man jumped out of the way and the others suffered "substantial" injuries, the Crown Prosecution Service said.
Hussain will be sentenced on 31 October at Manchester Crown Court.
He was found guilty by a jury after a trial following the incident in the early hours of 21 August 2012.
'Catapulted into air'
The Crown Prosecution Service said Hussain had an altercation with the men on Albert Square in Manchester city centre before he hit them with his car.
Hussain left the UK three days after this incident. He was arrested by police more than seven weeks later at Manchester Airport.
Rachael Pavion, district Crown prosecutor for CPS North West said Hussain used his car "as a weapon" and "sought revenge by driving at speed deliberately at the four men with a clear intention to kill".
"After he struck his victims, he drove from the scene and showed complete disregard for the harm he had caused," Ms Pavion added.
"One of the men received life-changing head injuries; he was catapulted into the air after being carried on the bonnet of the vehicle for several metres, the two other men sustained substantial injuries.
"Aqab Hussain has been brought to justice and he must now take responsibility for his dangerous actions."