Warehouse Project drugs death club in testing pilot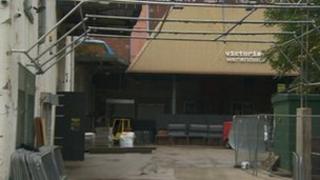 A nightclub where a man collapsed and later died after taking drugs is to pilot a new Home Office drug abuse prevention scheme.
From 12 October, The Warehouse Project will test suspected illegal substances seized on the premises in a laboratory set up within a trailer.
Warnings will then be sent out via social media about what they contain.
The venue in Trafford, Greater Manchester, said the scheme was planned before the incident on Saturday.
Nick Bonnie, 30, of Stroud, Gloucestershire, died after taking a drug, thought to be ecstasy.
Greater Manchester Police are investigating whether a "bad batch of drugs" caused Mr Bonnie's death and left fifteen others needing hospital treatment over the weekend.
'Nasty stuff'
A 25-year-old man was arrested on Saturday after security staff at the venue suspected him of dealing drugs.
He was later taken to hospital after swallowing what was thought to be "a quantity of drugs". He has since discharged.
Sacha Lord, from The Warehouse Project, said: "For the first time ever in club history in the UK, the Home Office will fund a trailer.
"Any drugs confiscated are going to be put through a machine, which in seconds evaluates what is the makeup of that particular confiscation. We can then send out messages via social media during the event.
He added: "This isn't something that's just happening at the Warehouse Project, this is a national issue.
"We need to educate people about what's going on, as there's some nasty stuff out there."
Sam Kandel, also of The Warehouse Project, said their thoughts remained Mr Bonnie's family and friends.
"We spend the whole year carefully planning every aspect of these shows, and are so sorry that the opening weekend was the setting for such a sad loss."
A Home Office spokesman said: "This work is part of our Centre for Applied Science and Technology's drugs support and advice service.
"We routinely analyse seized and confiscated illegal drugs to monitor emerging threats and target activity to reduce demand and supply."