First UK student-run foodbank opens in Manchester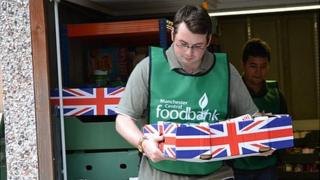 The first student-run foodbank in Britain is opening in Manchester.
Manchester Central Foodbank, which is based at the University of Manchester Roman Catholic Chaplaincy, is an initiative from the students.
It grew out of a mobile soup kitchen also operated by students, who found growing food poverty among people who had just become homeless.
The Trussell Trust, the largest foodbank network in the UK, confirmed this as the first student initiative.
Co-ordinator Joey Ferrigno said students from the campus St Vincent de Paul Society, a Catholic voluntary group, were encountering increasing food poverty.
Like other foodbanks, the students will be dealing with referrals from social services and other agencies.
Student volunteer Eamonn O'Brien, 21, said the project would be open once a week on Wednesdays from 10:00 to 12:00 with a team of 15 students distributing food.
But it will eventually be open three times a week in a depot behind the Holy Name Catholic Church.
It will help people mostly from the Longsight and Hulme areas of the city.