Jade Anderson death: Killer dogs' owner admits animal cruelty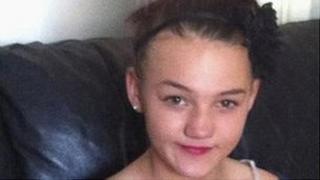 A woman has admitted causing unnecessary suffering to four dogs that went on to kill a 14-year-old girl.
Jade Anderson died after she was attacked by two bull mastiffs and two Staffordshire bull terriers in Wigan, Greater Manchester, on 26 March.
Beverley Concannon, 45, pleaded guilty at Wigan Magistrates' Court.
A charge of not ensuring the welfare of the dogs was dropped against Concannon, who was granted unconditional bail until sentencing on 18 October.
Another charge was of causing unnecessary suffering on 26 March when the dogs were shot by the police was also dropped.
Concannon bowed her head in the dock throughout the brief hearing at which she admitted causing unnecessary suffering to bull mastiffs Buddy and Neo and Staffordshire bull terriers Ty and Sky between 19 July 2012 and 25 March this year.
'Very serious'
It was said she subjected the animals to "an environment that was detrimental to their well-being" and she knew or ought to have reasonably known what she had done.
Jade was visiting a friend at Concannon's former home in Chaucer Grove, Atherton, when she was attacked.
Paul Taylor, prosecuting, told the court the guilty plea was acceptable to the Crown, adding the decision not to charge Concannon with Jade's manslaughter was made at the "highest level" of the Crown Prosecution Service (CPS).
The CPS said last month could it also not bring any charges under the Dangerous Dogs Act because the four dogs were not banned breeds and were not out of control in a public place.
Adjourning proceedings, District Judge Mark Hadfield said: "This lady is of previous good character.
"The very, very serious nature of the offence means the court needs a report before sentence."
Concannon could face up to six months in jail.
Jade's mother, Shirley, and stepfather, Michael, who did not attend the hearing, have urged the government to tighten the laws around dangerous animal ownership.
Under the plans for England and Wales, announced in February, a dog owner could be prosecuted if they fail to stop their pet attacking someone on their own, or someone else's property.