Coronation Street site in Manchester sold for £26m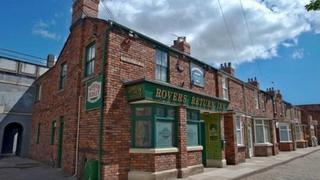 ITV's Coronation Street site in Manchester is to be turned into a residential and commercial quarter after it was sold for £26m.
The soap is due to move next year to a new set that is still being built in Trafford at MediaCityUK.
The channel's former offices in Quay Street have been bought by developers Allied London and Manchester City Council.
They intend to submit planning applications after the move.
It is hoped the redevelopment of the area will be completed within two years.
Michael Ingall, of Allied London, said: "Our vision is to promote the creation of a completely new mixed-use quarter for Manchester city centre.
"This area of the city is rich in heritage, history and character, and we intend to make sure this makes a valuable contribution to our thinking on design and development."
An application made by an anonymous individual, asking English Heritage to give the Coronation Street set listed status to secure its future, was refused in June.
The future for the set remains uncertain.