Jade's Campaign to deter dog attacks launches in Wigan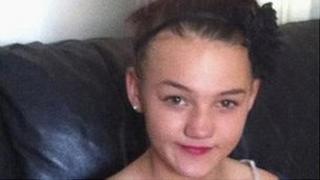 The family of Jade Anderson, who died after she was bitten by dogs at a friend's home, have begun a campaign to reduce the risk of attacks.
Jade, 14, died in March while at the house in Atherton, near Wigan.
Her stepfather Michael said Jade's Campaign was "calling on people to make sure they are looking after their dogs".
Bolton West MP Julie Hilling supports the campaign and has raised the issue in the Commons.
Owners will be offered advice on looking after dogs and practical measures, such as free micro-chipping.
Events are planned in Wigan organised by Wigan Council, Greater Manchester Police and Blue Cross pet charity as well as Wigan and Leigh Housing.
Mr Anderson said a quarter of a million people were attacked by dogs last year. "We think this could be significantly reduced if people took better care of their dogs," he said.
"Some owners have difficulty controlling their pet. We want to help them by offering advice and support."
He said they hoped the public would come forward if they think an owner is mistreating a dog or if a dog is becoming dangerous.
Donna Hall, chief executive of Wigan Council, said: "We plan to hold a series of community events across Wigan borough over the coming months.
"We are committed to working with Jade's family to raise awareness of this issue and to do all we can to encourage people to take care of their dogs responsibly."
Beverley Concannon, 45, of Almond Grove, Wigan, is due before Wigan Magistrates' Court on 1 October charged with three offences under the Animal Welfare Act 2006.