Green belt campaigners: New 2,000 home village in Handforth too large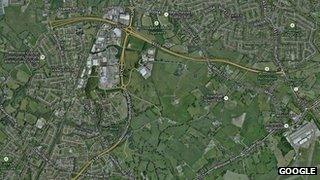 Green belt campaigners in Cheshire claim a new 2,000 home village in Handforth is too large.
Cheshire East Council has earmarked the land near Handforth, Wilmslow, for the development alongside other sites in the borough.
The village may be built on green belt land to meet government housing targets.
Council leader Michael Jones said: "We have been given targets to hit and to reach - and we have to achieve them."
The proposal for the new North Cheshire Growth Village in Handforth East is part of a wider development plan for Cheshire East.
'Big win, win'
The council said the green belt earmarked for the village was the "worst type of land".
Hands Off Handforth Green Belt campaigner Brian Tolver claims it would not solve the housing shortage in Cheshire East because "people from elsewhere are going to move there".
The North West needs to build an estimated 10,000 new homes a year, but in recent years only 3,000 have been built.
Mr Tolver added: "It's just that the amount going in this particular place is completely disproportionate."
The council's plan, which has been developed over three years after five public consultations, includes proposals for new employment sites, road infrastructure projects, new schools, green spaces as well as homes.
Mr Jones said: "Unfortunately, in the north of the borough, we only have green belt land we can build on.
"In terms of farmland or spectacular land it's the worse type of land. It's got rubble underneath it, it's even got former airfield sites which has got asbestos pits."
He added the village and development of the land would be "a big win, win for everyone in the area".
All developments would be built on less than 1% of the borough's green belt, the council added.