Rania Alayed: Search for body of missing mother scaled down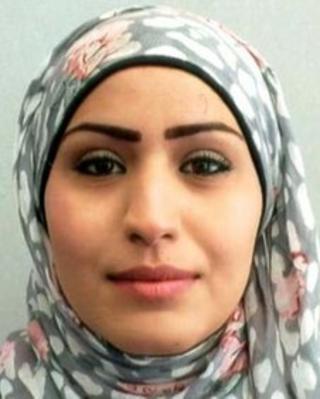 The search for the body of a missing mother-of-three who is believed to have been killed has been scaled down.
Rania Alayed, 25, from Cheetham Hill, Manchester, was last seen on 7 June. Her husband and brother-in-law have been charged with her murder.
Greater Manchester Police has ended a search near the A19 in North Yorkshire and is focussing on intelligence-led operations to find her body.
They said a search operation would re-start "when the time is appropriate".
Police officers and the army had been looking for Ms Alayed's body along a 15-mile (24km) stretch of the road near Thirsk.
'Truly extensive'
They also investigated a white campervan, seen on the road on 8 June.
Det Ch Insp Pete Marsh, who is leading the search, said: "The search for Rania has been truly extensive and has involved hundreds of man hours from officers from two different police forces, supported by the military.
"As yet, Rania's body has not been located and we have recently completed a three week search phase.
"We are now moving into a further phase and are now examining other leads and intelligence with a view to re-starting the physical searches when the time is appropriate."
Ms Alayed, who was originally from Norton on Teesside, was reported missing from home on 2 July.
But police believe she was last seen around 19:30 on Rodney Street, near Arthur Millwood Court, Salford, in June.