Rochdale care workers strike over wage cuts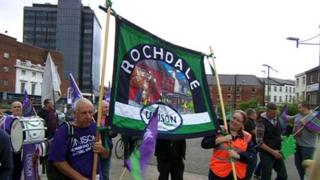 About 100 care workers in Rochdale are staging a 10-day strike over basic pay cuts of up to 30%.
A new company set up by Calderstones NHS Trust took over the running of the borough's social care for disabled people in September 2012.
The previous firm, MacIntyre Care, pulled out saying the council's reduced budget would affect "service quality".
The union Unison said the trust's new firm Future Directions had broken contract transfer laws.
Unison has lodged 100 employment tribunal cases against Future Directions, alleging staff were effectively "unfairly dismissed" after original contracts were replaced with new terms and conditions that slashed basic pay rates and also reduced sick pay and unsociable hours allowances.
'Constantly in red'
The firm was awarded the reduced-rate contract by Rochdale Council after MacIntyre Care said it was unable to carry on providing the service without "service quality cuts and significant cost reductions".
In its 2012 annual report, MacIntyre Care said the contract was already making a loss due to the fixed staff wages that were protected by law.
But new contracts drawn up by not-for-profit Future Directions, set up by the Calderstones Trust to "enable more competitive delivery of services in markets where NHS pay rates are not sustainable", involve reduced pay.
Karen Shatwell, who has worked for the service for 15 years, said her total take-home pay has been slashed by 47%, leaving her up to £500 a month out of pocket.
She said: "It's very difficult. I've had to negotiate pay plans for my utilities, I'm constantly in the red and have had to extend my overdraft.
"If you're not going to pay the wages you're not going to get dedicated staff. They are just going to be people who come in and do the bare minimum."
'Expansion through exploitation'
In its Annual Plan for 2013-14 the trust said Future Directions would aim to make loss-making contracts profitable "using the flexibilities of being a social enterprise" to deliver care in a "market-focused and cost-effective way".
Profits will be ploughed back into the trust through its charity arm.
Lizanne Devonport, of Unison, said the trust has adopted a "strategy of expansion through exploitation" and local authorities should not be "scrimping" on a service that is vital for vulnerable people.
She said: "Our members in Rochdale are facing very serious reductions in their living standards and many are worried about losing their homes.
"What does it say about our society if providing care for vulnerable people is treated as something to provide as cheaply as you can get away with?
"Calderstones, through Future Directions, were willing to make cutbacks in Rochdale that other providers were not willing to make."
'No more money'
Union leaders also expressed concern that the trust is being investigated by watchdog Monitor, which is calling for an urgent review of standards of care after a patient was abused.
Rochdale Council said the budget for the service was reduced due to government cuts but it established the market rate and consulted other providers, who said they could deliver the service at the new rate.
Paula Braynion, managing director of Future Directions, said the new contract offered employees a "good deal" in the current economic climate.
He said: "As a not-for profit company outside the NHS, we can run services without needing to make a return on contracts.
"There is no more money in this contract and so these strikes serve only to interrupt [patients'] carefully managed routines and possibly cause them distress and disruption."