Manchester loan sharks jailed after preying on young mothers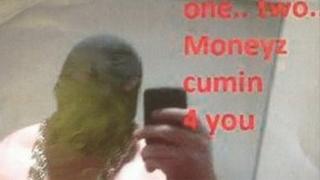 Three Manchester loan sharks who charged vulnerable people 100% interest and menaced them by mobile phone have been jailed.
Ian Parsons, 27, of Blackley, admitted illegal lending and money laundering and was jailed for 32 months at Minshull Street Crown Court.
Christopher Weaver, 37, and his brother Mark, 35, of Gorton, were jailed for 18 months and three months.
The court heard how they used menacing texts to intimidate their victims.
Parsons's phone avatar also showed him in a balaclava and gold chain with the text: "one.. two.. moneyz cumin 4 you".
'I'll end you'
The trio had 134 borrowers - mostly young women with children - and an annual turnover estimated at £110,000, the court heard.
Their clients were of similar age, mainly unemployed or on low incomes. All were reluctant to come forward due to fear.
The men added 100% interest, the court heard, so a £100 loan would be paid back at £20 a week for 10 weeks. Charges were added for late payment.
The court heard that Parsons, of Lakeside Rise, spent £1,000 on a night out and used texts and Blackberry messenger to arrange loans and contact borrowers for payments.
Prosecutor David Hercock told the court there was an "underlying theme of intimidation with text messages such as 'When I get you, I'll end you' and 'He'll come and grab you and snap your jaw' sent from Parsons.
Christopher Weaver, of Maybury Street, admitted two counts of illegal money lending and two of money laundering while his brother, who lived at the same address, admitted one count of illegal money lending and one of money laundering.
The investigation was led by the England Illegal Money Lending Team as part of a crackdown involving Manchester City Council and Greater Manchester Police.
Outside court, Det Insp Chris Mossop, of Greater Manchester Police, said: "Loan sharks like these cause untold fear, anxiety and distress within communities with their savage debt collecting system. They prey upon vulnerable people - often those who have children, who are struggling to make ends meet.
"What we must not lose sight of is the role these loan sharks can play in funding organised criminality. The money they make by bullying decent people into such huge overpayments often goes directly to funding the drug and gun trade."