Greater Manchester Police could axe up to 700 officer posts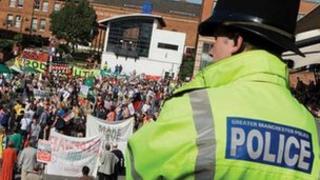 Greater Manchester Police (GMP) says it may have to axe up to 700 of its 6,900 police officers to save an estimated £66m from its budget.
The cuts, which equate to 10% of its budget, are due to come into force over a three-year period from 2014-15.
GMP will not replace police officers who retire or leave and a recruitment freeze will be put in place.
Chief Constable Sir Peter Fahy said it was the "biggest challenge GMP has ever faced".
The force also has about 3,600 police staff posts and approximately 800 police community support officers (PCSOs).
The latest round of cuts would see a total reduction in police officer jobs by about a fifth since 2011, a spokesman for Tony Lloyd, Greater Manchester's police and crime commissioner, said.
Sir Peter said: "It has big implications for the way our staff operate and about the co-operation we will need from the public and business."
He added: "Basically, we will stop doing some of the things we did before."
Sir Peter said the force would be reviewing how it dealt with persistent offenders and added "we will do other things differently".
Earlier this month, he said his officers could only concentrate on about 40% of crime.
In 2010, GMP said 3,100 jobs - 1,500 officers and 1,600 civilian workers - had to go over a four-year period to meet the government's 25% spending cuts.
'Reckless and dangerous'
The latest announcement comes after the government revealed £11.5bn cuts would be made across all public services - with the Home Office expected to lose 6% of its budget.
Mr Lloyd said: "Enough is enough. These further cuts are reckless and they are dangerous.
"To be frank, there's only so much they can take."
Mr Lloyd, who stood as a Labour candidate in November's commissioner election, added: "The police service has done its part, by making savings, delivering real efficiencies and working together with other agencies.
"Both the chief constable and I remain wholly committed to building the safest communities in Britain."
The latest crime figures show an 11% drop in overall crime in Greater Manchester from 2012-13.
However, the Greater Manchester Police Federation said it feared the police force would go back to the "old days" with reduced proactive policing.
Ian Hanson, chairman of Greater Manchester Police Federation, which represents rank-and-file officers, said: "People take for granted that the police will attend when called.
"In the years to come now, much more is going to have to be done over the phone and the force is going to have to make some difficult choices to stop doing the things which the public take for granted.
"I think community policing will suffer and I can see us going back to the old days where we quite simply respond to things."
Under current police regulations, police officers cannot be made compulsorily redundant.